Electrical Safety
With decades of experience creating premium biomedical test equipment, we at Fluke Biomedical take safety seriously. Our products are designed to meet the highest standards of medical device quality assurance, ensuring the well-being of patients and staff globally.
Electrical Safety Testing
Frequent electrical safety testing is crucial to ensure life-saving medical devices operate at their safest and maximum potential. Every piece of hospital equipment must be tested regularly, and that's no easy task. According to the International Business Machines Corporation (IBM), there are as many as 15 million medical devices in hospitals nationwide.
Here at Fluke Biomedical, we produce top-of-the-line medical test equipment to make sure you can test your devices with confidence and ease. With decades of experience, our experts have a history of designing high-quality electrical safety testing devices with you in mind.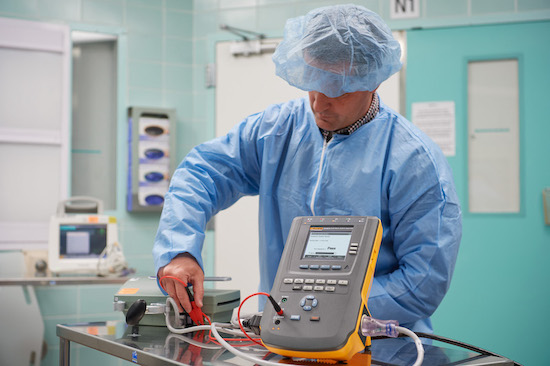 We understand that an electrical safety tester is crucial in protecting both patients and healthcare staff, as well as necessary to meet electrical safety requirements. Our devices have undergone rigorous testing to meet national and international safety standards, and we are committed to providing you with the best medical test equipment on the market.
Our Electrical Safety Testing Product
Our procedures for design, production, and quality control are unparalleled in this field. The specialized test equipment by Fluke Biomedical is designed to reliably and accurately perform electrical safety testing while guaranteeing the highest level of quality assurance.
We've spent time and resources to take the difficult parts of the electrical safety testing process and make it simple. Our ESA615 and ESA614 both have automation features that make testing easier than ever before. With this feature, it only takes a few minutes to test to any standard at a click of a button. Many of our ESAs also have the ability to perform both ECG waveform tests and dual-lead measurements, combining the functionality of a simulator and safety analyzer in a single test tool.
Our products, which are CE and CSA listed, have a 20 A at 120 V current capability, meaning they can handle even the most demanding tests. On top of that, nearly all of our electrical safety analyzers are handheld, so you can easily take them where you need to go. At the end of the day, our mission is to make the electrical testing process easy for you, so you and your staff can focus on providing the best possible care to your patients.
Electrical Safety Testing FAQ
What is electrical safety testing?
Hospitals, Independent service organizations (ISOs), and original equipment manufacturers (OEMs) rely on the safety of medical devices and equipment. Any equipment that is directly or indirectly connected to a patient, such as defibrillators, infusion pumps, and electrical beds needs to be routinely tested for electrical safety. There are stringent electrical safety standards and regulations surrounding this life-saving equipment to make sure they function properly and safely to protect both patients and the healthcare professionals who use the equipment.
Electrical safety testing involves a series of comprehensive measurements and inspections to determine if the medical equipment is properly grounded, insulated, and free from electrical hazards. It is also crucial to detect potential electrical faults that could lead to malfunctions, inaccurate readings, and injuries. Testing is a critical component of the quality assurance process to ensure equipment is safe, reliable, and effective.
To complete these electrical safety tests you must use specialized equipment, such as an electrical safety analyzer. Our team of experts at Fluke Biomedical has spent decades perfecting electrical safety tester equipment to meet both U.S. and global safety standards. Our products make testing for electrical safety effortless and user-friendly, often only requiring the click of a button. The ease of use of these devices helps make the complicated nature of completing an electrical safety test simple, ensuring regular and thorough testing.
For more information, read part one of our introduction to electrical safety.
Why is electrical safety testing important?
The main reason for electrical safety testing is to protect patients and healthcare professionals from potential harm. While medical devices are essential to providing life-saving care to patients, the same equipment can become life-threatening if they malfunction. To avoid this dangerous outcome, medical device testing is fundamental to protect patients and healthcare professionals. Consistent and accurate testing ensures protection from dangers such as electrical shock, burns, or even electrocution. Proper testing also helps avoid any accidents and ensures patients receive the best care possible in a safe environment in even the most high-stakes of situations.
It is also imperative to make sure medical devices are operating correctly without electrical faults. If a medical device has undetected faults, it could lead to inaccurate readings which could then lead to misdiagnosis and incorrect treatments. Precise testing can detect and prevent these types of faults, catching problems early, so experts can quickly get medical devices fixed and back to providing reliable readings.
From a functionality standpoint, consistent testing also identifies any potential problems before they become long-term issues. That can help healthcare providers avoid costly repairs and replacements down the line. Electrical safety testing is also a requirement in the United States and countries across the globe. Testing ensures compliance and avoids penalties or legal actions.
Find out more about the importance of electrical safety and its potential impact on patient safety
How often should you do electrical safety testing?
There is not a simple answer to this question in regard to all medical devices, but there are some general expectations when it comes to how often equipment should be tested.
Initially

All medical devices, regardless of what they are, should be tested before the equipment is used in a healthcare setting. This testing ensures that they are meeting national electrical safety requirements or international electrical safety standards.

Post-Repairs

If a device has any repairs or modifications it needs to have electrical safety testing before it goes back into service. Any changes to the equipment, no matter how small, can affect its electrical safety. Even a simple repair or replacement of a component can affect the electrical insulation, grounding, or leakage current of the device.

Environmental Changes

Medical equipment should be examined if there are also any changes to the environment where it is moved to a different space or if there's a power outage. Changes such as power outages can cause electrical surges and fluctuations that can damage medical devices or compromise their electrical safety, not to mention alter any settings in place as the device resets when power is restored. These changes can also cause trouble when restarting the equipment or can lead to internal faults that aren't immediately obvious.

Regular Intervals

Medical devices need to have frequent and regular electrical safety testing done. The interval frequency depends on a variety of factors including the type of equipment, how often it is used, and the specific regulations and guidelines of the country or region it's being used in. For example, high-risk equipment such as anesthesia machines or defibrillators may require more frequent testing than low-risk equipment such as IV pumps.
IEC 60601-1 is recognized worldwide as the main international standard for electrical safety requirements. Fluke Biomedical's ESA615, ESA612, ESA609, and ESA620 products are all in compliance with the stringent requirements. In the United States, the NFPA 99 is the primary standard for electrical safety, and our ESA614 is the preferred analyzer for that standard, although all of our other electrical safety analyzers offer the selection of NFPA 99 as an optional standard on which to base electrical safety testing.
Read on to learn more about electrical safety standards and basic testing.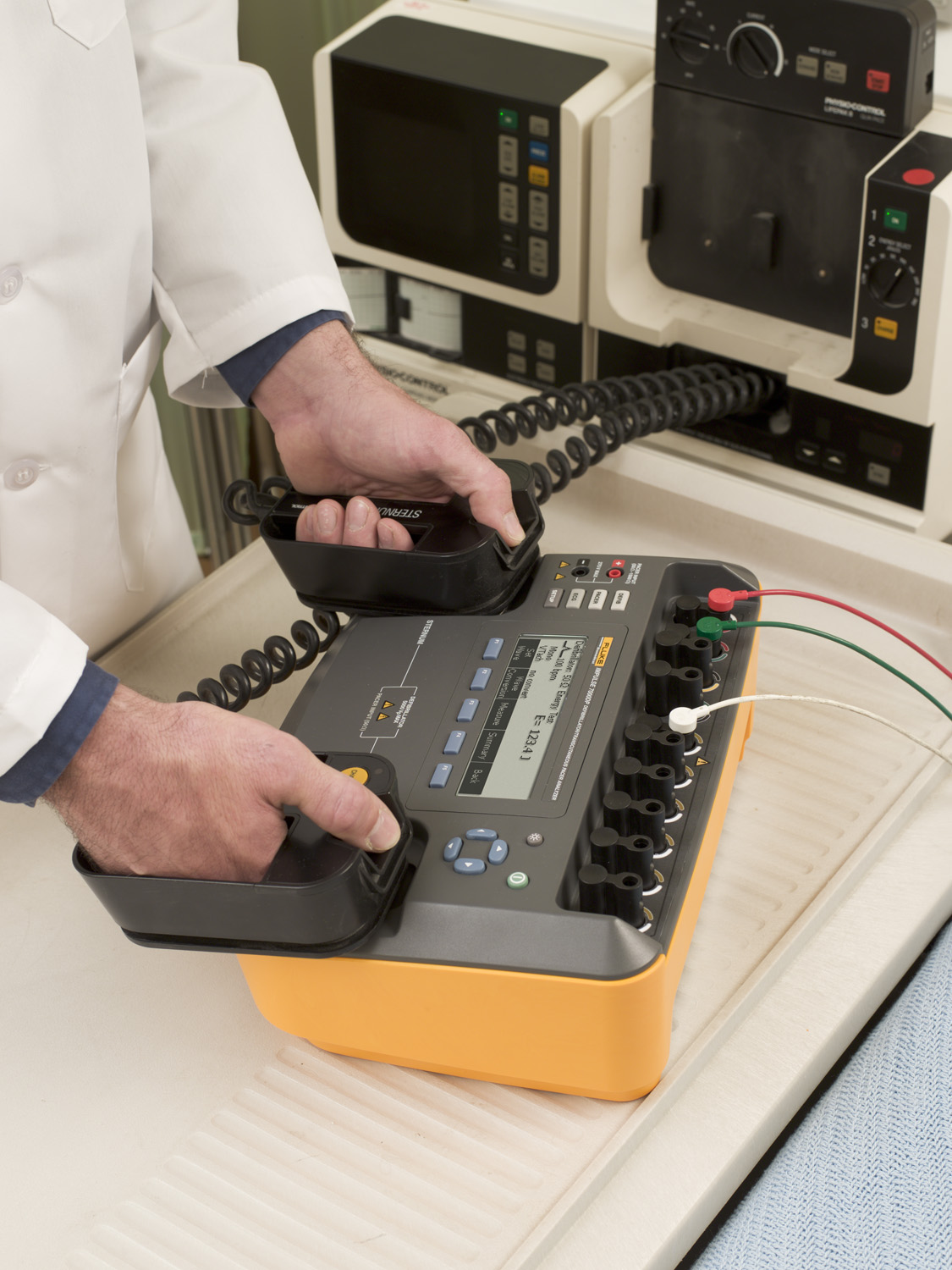 What should you do before beginning electrical safety testing?
Before you begin doing electrical safety testing you need to have the proper training to be sure you're accurately doing medical device testing and protecting yourself in the process. Without the proper training, it's easy to make mistakes during testing which could lead to future equipment errors or risks. Training is essential to make sure the electrical safety testing process is completed both safely and effectively.
Fluke Biomedical is known for its top-of-the-line biomedical testing equipment, and our team is also passionate about empowering others with knowledge. We offer free Advantage Training along with a huge library of videos and educational blogs such as how to do an electrical safety test on an MRI in 10 easy steps. Many of these training sessions can be used for continuing education credits such as this webinar on IEC 62353 compliant electrical safety testing for patient monitors and ventilators, as well as one on the NFPA99 Electrical Code.
Here at Fluke Biomedical, we have spent decades creating the highest quality products to ensure that equipment empowers everyday heroes to focus only on protecting lives. Our team of experts strives to make the complicated simple with our user-friendly testing devices. We have a longstanding history of excellence and are committed to providing education and training opportunities to ensure that healthcare professionals have the knowledge and skills they need to keep their patients safe.
More Resources on Electrical Safety