Accredited medical equipment calibration and repair facilities by Fluke Biomedical
Please see important information about the United States service center.
Highly credentialed and equipped with an NVLAP Lab Code 200566-0 accredited laboratory in Cleveland, Fluke Biomedical calibrates and repairs instruments of industry makes and models from all over the world.
Serving over 50,000 customers and 191 nuclear power facilities worldwide, the Fluke Biomedical team of physicists, engineers and technicians process thousands of instrument calibrations and repairs per month and employ computer tracking to ensure rapid high-quality turnaround.
Each Fluke Biomedical service center is equipped with the necessary instruments, standards, procedures, and personnel to maintain our products at peak performance. Fluke Biomedical can calibrate most other manufacturers' instrumentation. Proper use of measurement standards is carefully and continually monitored through a corporate controlled audit program.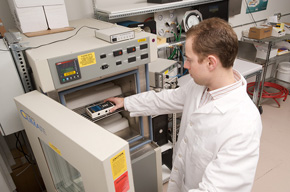 It Pays To Calibrate Regularly
Fluke Biomedical test and measurement instruments are the heartbeat of a hospital as they check and measure all the other medical equipment within the facility. They control the quality of medical instruments, and in the end are responsible for the success and profitability of any medical facility.
A regular check of your heartbeat with traceable calibration equipment is essential. You can't afford to cut corners when it patient safety is at stake and regulatory requirements are knocking at your door. With unmatched credentials and expertise, Fluke Biomedical authorized service centers provide a measure of safety and assurance not available through smaller, regional calibrators. That's why so many customers send their instruments to the team that specializes in high quality intrinsic calibrations. When your name is on the line, count on us.
Customers receive a Certificate of Calibration with each calibrated instrument, and electronic record backup is available at no charge. Our computer systems track instruments throughout the calibration/repair process, and detailed unit histories are archived for customer reference. From select facilities, you can choose to receive computer-generated reminder notices, upgrade packages, extended warranty programs, and invoicing alternatives to provide flexibility for unique customer situations.
With over 100 years combined experience, our service personnel:
Adjust internal electronics for direct read so no correction is required
Repair defective systems
Verify performance with electronic calibration
Make mechanical adjustment as required
Perform preventive maintenance to maximize up time
Track product history to assure long-term product stability
How should you prepare your device for repair or calibration?