Infusion Pump Testing
Infusion pumps are one of the most widespread medical devices in hospitals and must undergo regular testing to ensure they operate smoothly and safely. Our team at Fluke Biomedical has spent decades developing sophisticated technology to make the infusion pump testing process simple and accurate.
Infusion Pump QA
Infusion pump testing ensures these medical devices deliver everything from nutrients to medications safely into the patient's body in controlled amounts. Infusion pumps are used extensively around the world making testing a critical component of medical device quality assurance.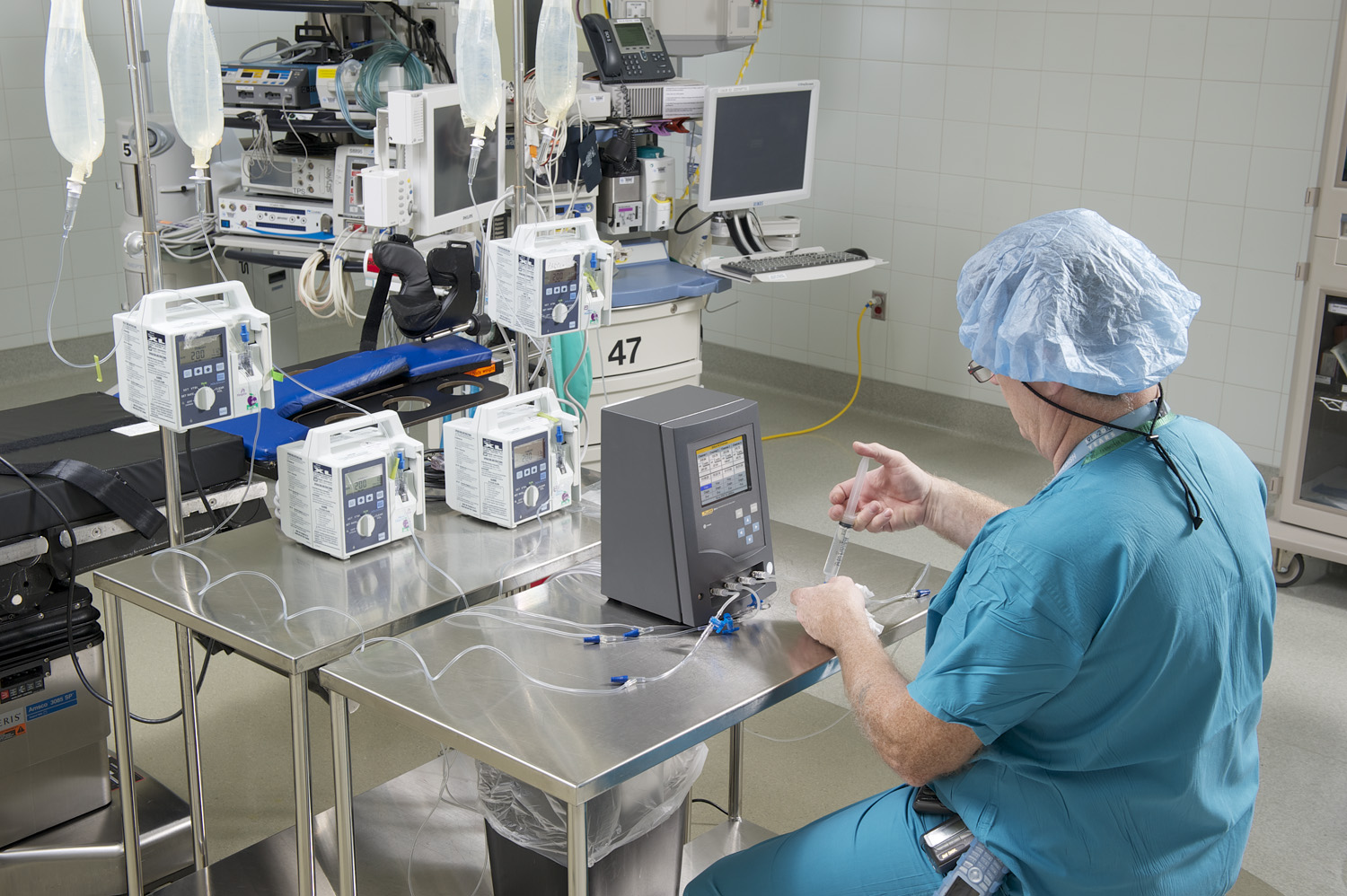 When testing, it's essential to check the performance of these devices and also examine them for electrical safety since they are plugged into mains power or battery-powered. Testing not only protects patients from risk, but any staff who handles and/or interacts with these devices as well.
Fluke Biomedical is an innovator behind specialized infusion pump testers that are designed to provide efficient and easy testing. With our longstanding history of providing top-of-the-line biomedical equipment, these tools are essential to ensuring infusion pumps operate as intended.
Our Infusion Pump Testing Products
For decades, biomedical professionals around the globe have placed their trust in our medical device testers. Our infusion pump testers are made to be user-friendly and simplify the testing process, making it easy for you and your team to document your results.
These testers all have onboard automation, which is useful for reducing human error and improving efficiency in testing by helping streamline the process. Infusion pumps have complex functionality and can be difficult to test manually, but automation ensures these tests are performed within the same parameters each time.
One advantage of our IDA-5 Infusion Pump Analyzer and Tester is that it can test as many as four infusion pumps at once. All of our testers are made to reduce the stress and frustration associated with complex testing procedures. Our goal is to uncomplicate and streamline the testing process for staff, so they can focus on the health of others.
Infusion Pump Testing FAQ
What is infusion pump testing?
Testing the performance of infusion devices requires specialized equipment to confirm the pump is delivering at the correct flow rate and volume. But not every infusion pump is alike. Pumps are made up of different mechanisms, the most common ones are linear peristaltics and syringe pumps. These all have the same function but complete the task in different ways. Because of that, each type of pump requires a different testing procedure.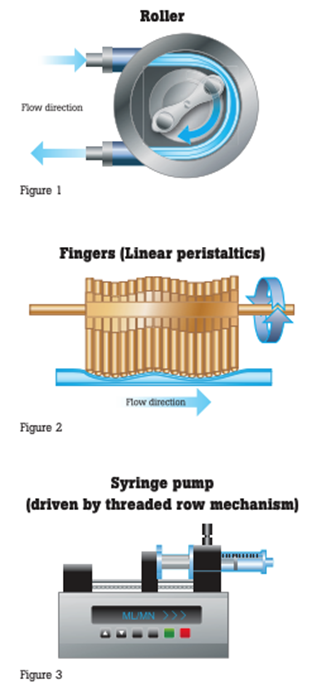 With testing, it's important to follow the manufacturers' branded model-specific test procedure recommendations. Generally, at least once a year, infusion pumps need to be tested for things such as flow and occlusion, along with volume and boluses accuracy. On top of that, pump alarms also need to be examined and these devices should be tested with an electrical analyzer.
Testing can take anywhere from a few minutes to several hours depending on what specific test is being conducted. Flow rate and occlusion checks can take less than 10 minutes but do require additional prep work and tools such as distilled water, priming solution, and a test bag to complete. More comprehensive tests including alarm and electrical safety tests take a lot longer.
How often should medical infusion devices be tested?
Infusion pumps need to be tested annually if not more. Testing is based on the requirements of manufacturers and medical facilities or in accordance with the IEC 60601-2-24 standard (which manufacturer service manuals are derived from).
Original Equipment Manufacturers (OEMs) also test infusion devices during the manufacturing process for quality control purposes. In hospital settings, infusion pumps are tested most commonly:
Ahead of inspections
During scheduled preventative maintenance
After repairs
While yearly testing is required, you should consider testing certain infusion pump devices more than that. Infusion pumps delivering more potent medications such as narcotics, analgesia, and chemotherapy may need to be tested every six months or more to make sure the device is safely and accurately delivering the drug to the patient. The frequency of testing should be based on the hospital's policies and procedures, as well as any regulations or guidelines from the relevant healthcare authorities.
Testing can be a complicated, lengthy process, but experts at Fluke Biomedical have worked hard to simplify it. Our infusion pump testers are made with the user in mind. They are automated and have touchscreens to make the frequent testing process much more manageable.
Why is infusion pump testing important?
As one of the most common devices in hospitals, these pumps are vital to helping patients receive both medication and nutrients, but they can also lead to dangerous consequences if they fail. From the span of 2005 to 2009, the FDA reported more than 56,000 issues related to infusion devices including injuries and deaths. Testing is the key to keeping these devices functioning as they should be.
One primary function of infusion pumps is to deliver powerful drugs that could quickly become dangerous such as opioids or chemotherapy. Testing and tracking infusion pumps ensures no patient accidentally overdoses or underdoses on a pain reliever or is given a deadly dose of chemotherapy because of a malfunction.
Testing is also important so that healthcare professionals can provide the best care to their patients. One important part of infusion pump testing is alarm testing. The alarm is supposed to go off to warn workers about an issue with the pump. If it does not go off, then workers may not know there's an issue until it's too late. Meanwhile, if the alarm goes off too much they could get "alarm fatigue." That's when providers are so desensitized to the alarm noise that they ignore or even disable the alarm and aren't prepared for a real health risk.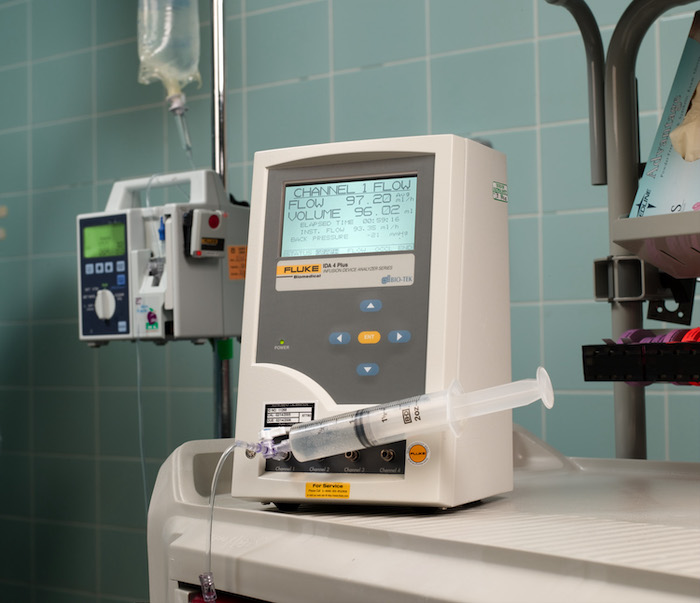 Where can I get training for infusion pump testing?
Infusion pump testing is complex, but that doesn't mean you can't do it. At Fluke Biomedical, we are proud of our history and reputation in the medical device testing industry. We have spent decades designing and innovating top-notch medical device testing equipment, and we strive to teach others the best practices when it comes to testing, including infusion pump testing. This is why we have developed several resources for professionals seeking training:
We offer a variety of in-depth, educational webinars including one on how to streamline your infusion device testing. You can receive 1 CE credit from ACI for watching these webinars. We also offer free Advantage Training which provides numerous public courses including an introduction to using the IDA-1S and IDA-5 Infusion Device Analyzers.
Our experts at Fluke Biomedical are passionate about what we do, and we want to share our knowledge with others. Our team is filled with trailblazers who are constantly designing and creating the latest technology to make sure the testing process becomes more efficient. We promise to never become stagnate and to continually push the bounds of innovation to ensure medical device testers are reliable and accurate for workers around the globe.
More Resources for Infusion Pump Testing